Alright, enough is enough 2020! We're not cancelling Halloween in Los Angeles this year! It might look different, but in some ways we've got some pretty creative family-friendly Halloween events coming for the kiddos! Let there be candy. Let there be pumpkins. Let there be costumes (I mean hey, masks!). Let there be lots of spooky and silly Halloween memories for the kids despite coronavirus! So, you might be wondering, what Halloween events for kids and teens are open this year in Los Angeles and what Pumpkin Patches are open this year in LA during Coronavirus? Without further delay, here are the best fun things to do in Los Angeles this year for Halloween!
The Best Halloween Events for Kids in Los Angeles – What's Open in 2020 Edition UPDATED!
---
Haunt o' Ween Kid-Friendly Halloween Drive-Thru Event
Looking for some sweet and spooky fun from your car? Drive-thru Halloween experience Haunt o' Ween has landed and tickets are already on sale (I have mine!). Candy, pumpkins, kids, socially distanced and all from the convenience of your car…looks fun!
$70 for a standard car up to 8 passengers and advanced reservations are required.
---
Descanso Gardens Family Friendly Halloween Event
Entering through the main lawn, guests of all ages can explore a twisting hay maze or take photos at the Descanso Gardens' signature Pumpkin House, made entirely of real pumpkins. From there, follow the path to the Camellia Forest, passing under a spectacular Pumpkin Arch. The path through the forest will contain special surprises including scarecrows with pumpkin heads and branched arms popping out as you pass…it's all part of the fun.
Tickets range from $4-$15 and advanced reservations are required.
---
Halloween Road – FREE Event! (SOLD OUT)
This FREE outdoor immersive experience will offer games, prizes and spooktacular surprises, boo! Freeform's 31 Nights of Halloween returns this year with a drive-thru and socially distanced event at The Heritage Square Museum in Los Angeles.
Free but advance reservations required, tickets released 9/12 at 10am!
---
Stranger Things Drive-Into Experience Scary Fun for Teens and Adults in Los Angeles
Got teens looking for a real scare this Halloween? Cruise through the Stranger Things Drive-Into Experience and travel back in time to 1985 and become a Hawkins resident – in real life. Relive some of the best moments from the Netflix series…and maybe even witness some unforeseen and unusual occurrences. If you dare.
Starts at $90 for 2 people in a car and advance reservations are required.
---
Los Angeles Haunted Hayride 2020 Drive-In Movie for Teens and Adults
More scary fun for teens! Experience the reimagined Haunted Hayride "drive up" movie this year. Enter through a creepy stretch of road featuring some of the set and scenic environments you've come to love at the hayride, followed by a an original haunted show featuring a multimedia story displayed on a 40 foot screen, as well as horrifying sets and characters from Midnight Falls that surround the theater and bring the story to life!
Standard tickets start at $40/car and advanced reservations are required.
---
Boo at the Santa Ana Zoo (TENTATIVE)
UPDATE: EVENT NOT SET YET / TICKETS NOT ON SALE YET – WILL UPDATE AS I GET MORE INFO ON PLANNED EVENT
Get your hoo-ha-has and boo's on at the Santa Ana Zoo's Boo at the Zoo this year for a socially distanced outdoor event, complete with 10 Trick-or-Treat stations, Teen Screams Haunted House, Animal Presentations and Free Parking!
Members are $12.95, non-members are $24.95, and children under 3 are FREE! Advance tickets highly recommended.
---
Haunted Highway – A Drive-Thru Halloween Experience (SOLD OUT)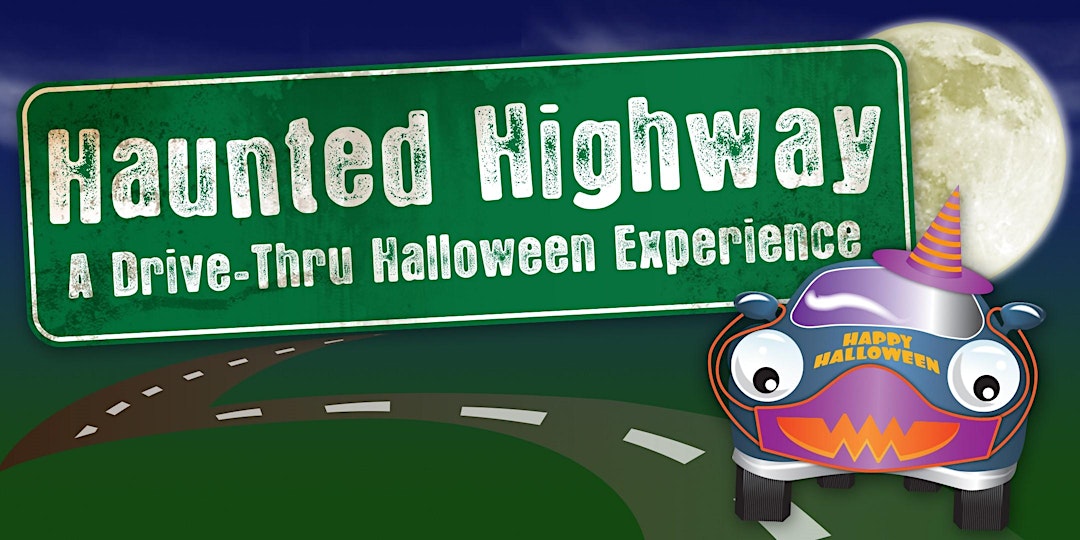 Set your cruise control as you take a trip down Haunted Highway, Santa Clarita's first drive-thru Halloween event. This event is FREE but will sell out early! Get your FREE tickets to the Santa Clarita Haunted Highway ASAP!
Tickets are free but must be reserved in advance.
---
Knott's Berry Farm Taste of Fall-O-Ween & Trick Or Treating Trail
Knott's Scary Farm may be cancelled this year, but Knott's will be holding a Taste of Fall-O-Ween Event in it's place, featuring all the yummy fall treats and fantastic Halloween decoration! Pumpkins, costumes, treats and a special Camp Snoopy Trick or Treat Trail for the kiddos!
$35* for adults for 5 tastes, $20* for ages 3-11 for 3 tastes plus 1 trip through the Camp Snoopy Trick or Treat Trail!
---
Ghostbusters at the Roadium Drive-In (SOLD OUT)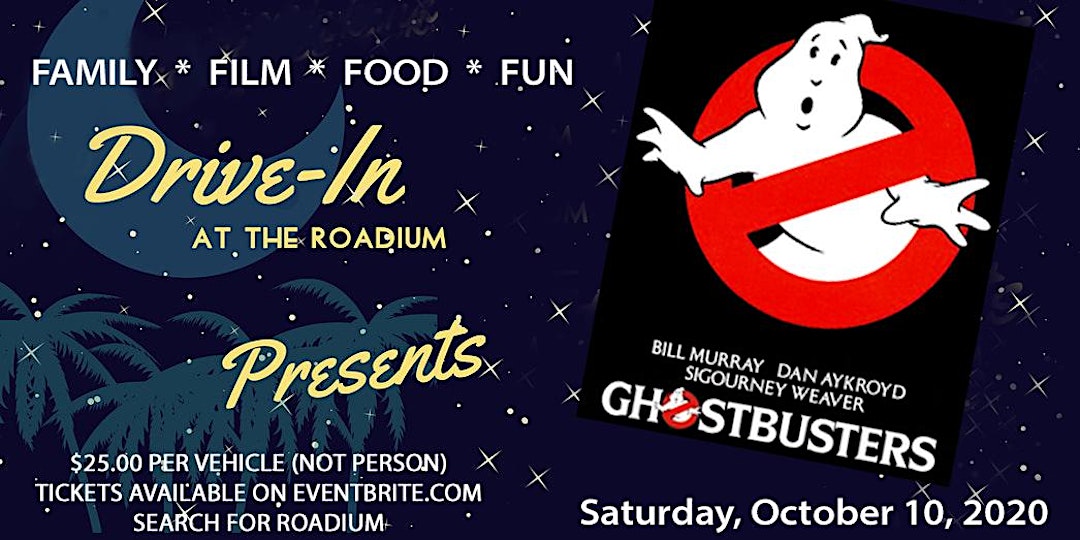 Looking for some old school ghostly fun? Pack up the car and head on over to the Roadium to catch Ghostbusters! This classic is only playing Saturday, October 10th – one night only so grab tickets early.
$25 a car, and advance reservations strongly recommended.
---
Fright Night at the Roadium Drive-In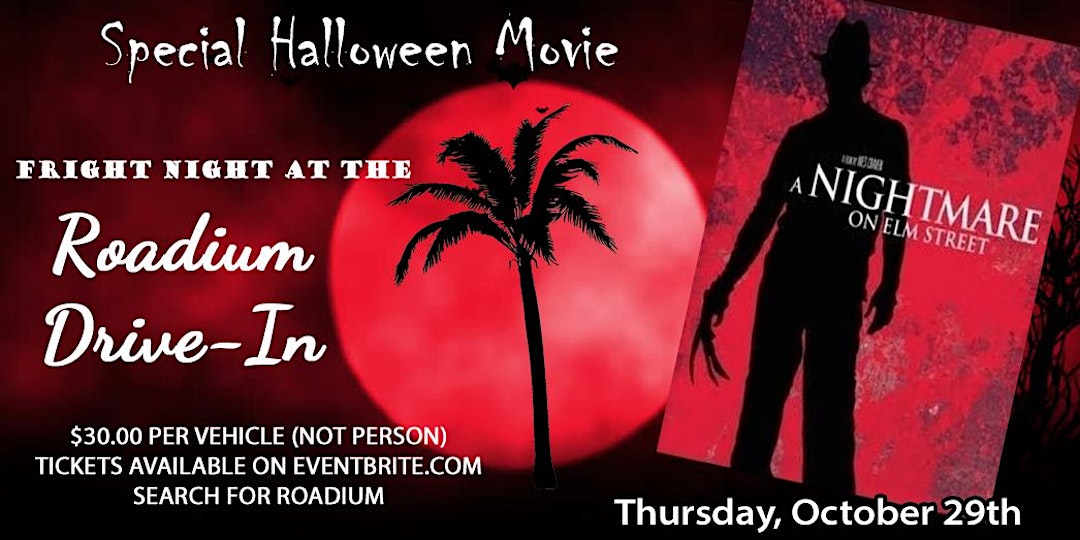 Want to show your teens what scary movies looked like back in the day? Catch Freddy Kreuger in Nightmare on Elm Street at the Roadium Drive-In only on October 29th!
$30 per vehicle, advance tickets recommended.
---
---
Beetlejuice at the LA Arts Society Drive-In Cinema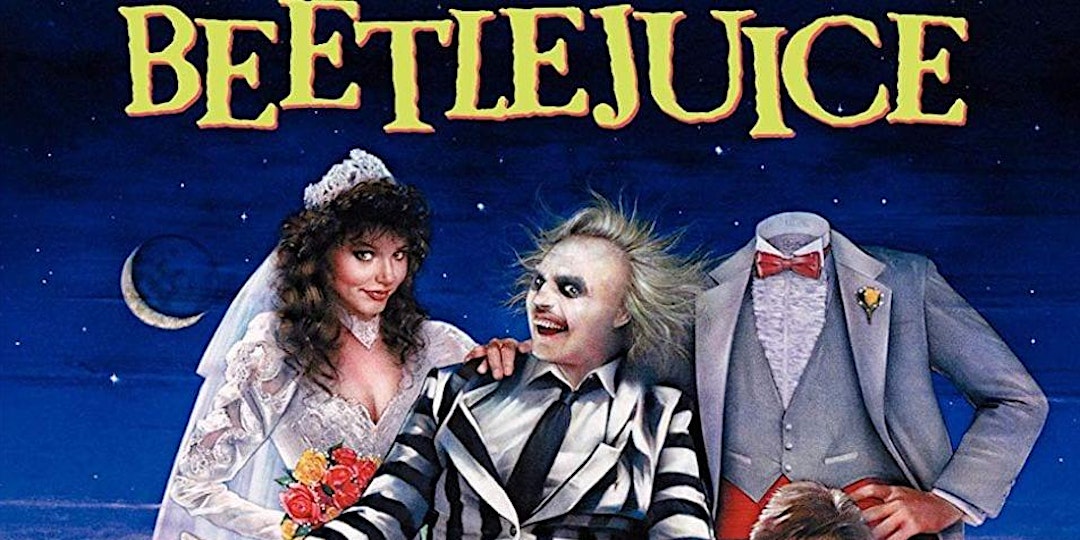 It's showtime!! Not to mention the fact that you're talking to a dead man! Childhood faves you can share with your [age appropriate] kids! Kick off the Halloween month with Beetlejuice at the Gardena Cinema on October 2nd and October 3rd.
$30 per vehicle. Advance tickets recommended.
---
Nightmare Before Christmas at the LA Arts Society Drive-In Cinema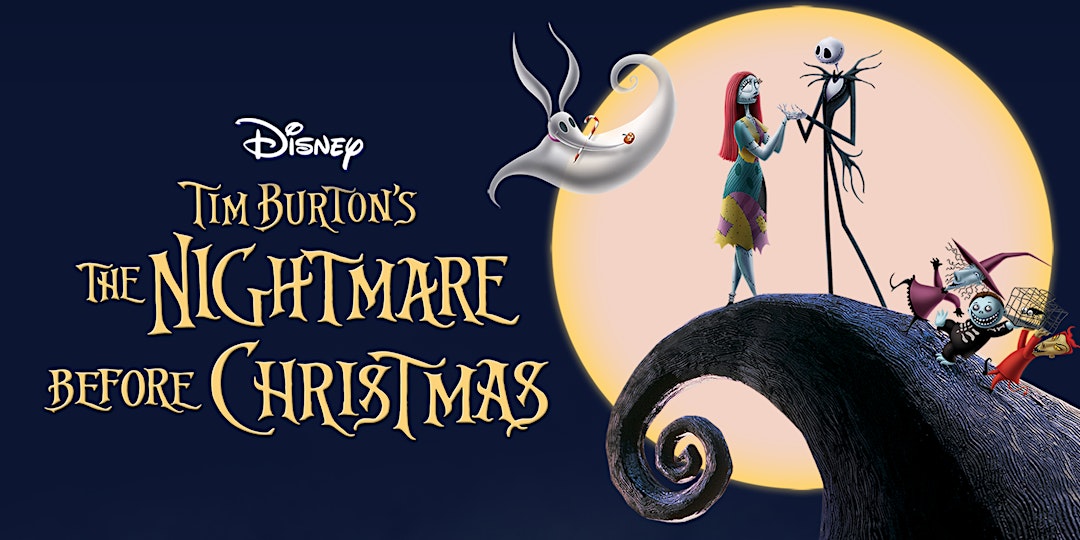 See what happens when Jack Skellington, Halloweentown's beloved pumpkin king, becomes bored with the same annual routine of frightening people and accidentally stumbles on Christmastown! Family favorite! Showing at the Gardena Cinema on October 16th and October 17th.
$30 per vehicle. Advance tickets recommended.
---
The Haunted Barnyard
The Haunted Barnyard concept is a new drive-thru experience in Santa Clarita. Unsuspecting passengers will get the scare of a lifetime in The Gentle Barn's transformed barnyard of doom. Wind through ghastly scenes guided by a ghostly audio all in the safety of your own vehicle! Ages 13+
Tickets start at $28pp and must be reserved in advance.
---
Nights of the Jack
This is a family friendly drive-thru Halloween experience. At Nights of the Jack you can expect instagram worthy larger than life pumpkin installations as well as detailed artist depictions of your favorite movie stars, sports heroes and animated characters.
Tickets are $69 per car. Advanced reservations required.
please review movies closely for appropriate ages – some of the movies above are for teens and older!
You might also like:
---
Los Angeles Pumpkin Patches are Open for 2020!
Spacious, outdoors and easy to socially distance…a number of LA's most popular Halloween pumpkin patches for kids and families are open for Halloween 2020! You can find the complete list of open pumpkin patches in SoCal here as well as the cancelled pumpkin patch list.
Check out our sister site's Halloween list on South Bay Mommies & Daddies!
Sadly, many of our beloved Halloween events have been cancelled this year due to Coronavirus.
Halloween 2020 Cancelled events list includes:
Halloween Horror Nights at Universal Studios Hollywood 2020 is cancelled
Oogie Boogie Bash at Disneyland 2020 is cancelled
Knott's Scary Farm at Knott's Berry Farm 2020 is cancelled
The Queen Mary's Dark Harbor Fear Lives Here 2020 is cancelled
Pin this so you can refer back to the What's Open in Los Angeles for Halloween list later!