The Best Affordable Resorts in San Diego for Families!
We recently had a last minute change in our travel plans and our kids were REALLY (like really, really, really) looking forward to the vacation…thus postponing the trip wasn't an option (plus school schedules and all of that good stuff). Being just 2 days away, all the good Airbnb's were sold out…so we did some resort research. We dug and dug and we were quite surprised to find there are a lot of great family friendly resorts in San Diego that fell way under the budget we had – score – more money to spend on the fun stuff! I recently wrote up a list of kid-friendly things to do in SoCal that are open now, so I knew there was lots fun stuff for the family to do in San Diego that is open during Coronavirus! You'll find great resort options in San Diego for families, including hotels offering affordable suites, in-room kitchens, restaurants, beach access, water slides and much more!
What are the top 5 family-friendly resorts in San Diego that are surprisingly affordable?
Bahia Resort
Hyatt Mission Bay
Paradise Point
La Jolla Beach and Tennis Club
Bahia Resort
Pros: Located on the bay, there is a private beach without waves or undertow so it's great for kids! Suites are very affordable and some have kitchens. Bonus, it's pet friendly and kids eat free.
Cons: While rooms have been refreshed (i.e. new mattresses and broken/worn items refurbished) and are clean, they have a drab brown decor of days gone by. They could use a refresh with a lighter/brighter look. Some rooms are adjacent to the public beach, which has evening bon fires/beach parties and are loud.
Tip: Recommend asking for an internal room or one that faces private beachside.
Hyatt Regency Mission Bay Spa and Marina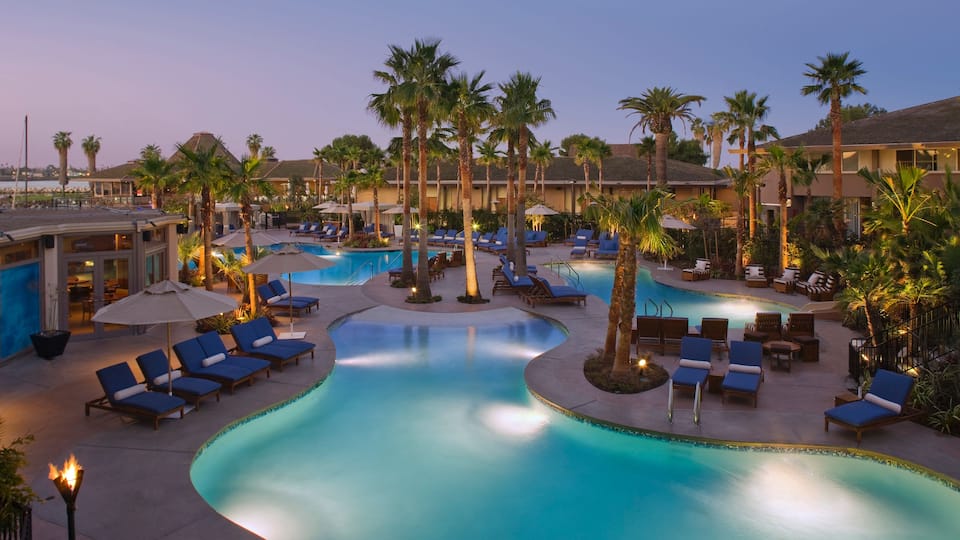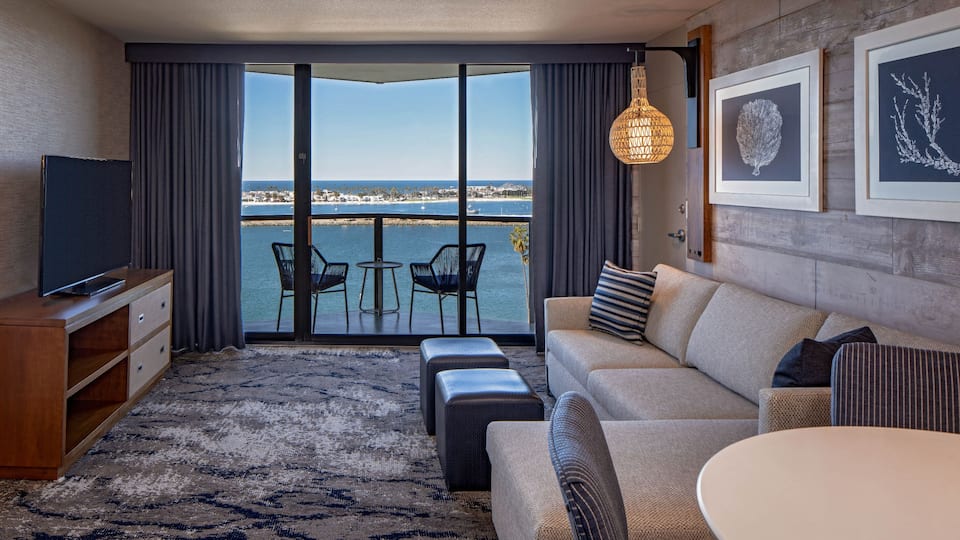 Pros: The rooms here are very affordable, even the corner suites. The pool area is gorgeous and boasts THREE water slides (confirm availability during coronavirus before booking).
Cons: There is no beach on the property.
Pros: Mission Bay Resort is beautifully updated, has two bayfront beaches (no waves/mother's beaches), a marina for rentals and offers affordable rooms, studios and suites. It's also pet-friendly.
Cons: There are very limited number of suites, so book this family friendly resort early to grab one of these deal-and-a-half suites.
Tip: They have rooms with your own fire pit, which is super fun for the kids in the evening!
Paradise Point
Pros: This mostly single story resort offers lots of affordable bungalows and room options. Love the blue and white decor, and the waterfront location!
Cons: Most of the budget friendly rooms are small. The nice suites are not affordable.
La Jolla Beach and Tennis Club
Pros: This is the most expensive option on this list, but a two-bedroom suite with a kitchen will run you well under a $1000 a night and it's beachfront! La Jolla is a wonderful community and for larger families finding two-bedroom suites is a rarity. Regular rooms are far more affordable and you can't beat this location for surfing kiddos.
Cons: Rooms aren't as designer as you'd expect. Clean, but more in line with a budget priced hotel.
Pin this to Pinterest so you can reference this post later:
---
---
Okay, so now that you've chosen a hotel, are you wondering what to do with kids in and around San Diego?
What are fun things to do in San Diego with kids?
You can check out the list of What is Open Now for Kids To Do in SoCal as well as these fun options:
Torrey Pines Gliderport
Got dare devils looking to fly? Torrey Pines Gliderport offers paragliding, hang gliding and sailplane flights with instructions and tandem options. No minimum age requirements to fly tandem with a instructor.
Del Mar Racetrack
Feeling lucky? You can watch the thoroughbreds race to the winner's circle at the Del Mar Thoroughbred Club. Closed circuit satellite viewing is available throughout the year. Good luck!
Coronado Island
Looking for a small vacation town vibe? This tiny "island" is only 7.4 square miles in size! Coronado Island offers unique downtown shopping and eateries in addition to it's award-winning beach.
San Diego Gaslamp Quarter
Looking for nightlife on your San Diego vacation? Head over to the southern part of 5th Avenue downtown, known as the historic Gaslamp Quarter. You'll find San Diego's premier shopping, dining, entertainment, and [lots of] nightlife.
Balboa Park
Kids got energy? Balboa Park is the nation's second largest park and it's home to the San Diego Zoo, 15 of San Diego's museums, renowned performing arts venues and beautiful gardens. Admittance to the park grounds is free, check with individual venues for ticket/entry fees.
San Diego Zoo
Got panda fans in the fam? The San Diego Zoo boasts the world famous Panda Bear exhibit from China with Hua Mei, the first surviving giant panda born in North America. Plus tons of other great exhibits.
Wild Animal Park
An extension of the San Diego Zoo, the Wild Animal Park wildlife preserve is home to some 2,500 Asian and African animals, including many endangered species. Unlike the Zoo, animals are in a more natural habitat setting and run freely.
Belmont Park
Looking for fun? Belmont Park is a beachfront amusement park, a modern day version of the original 1925 amusement park. Free admission and parking. Rides and arcades are currently closed to due to Covid-19 but restaurants are open as well as a number of outdoor adventures like rock wall climbing, tiki golf and zip lining.