Disney's popular and charming Big City Greens just launched its second season on Disney Channel. If you haven't caught an episode yet, it's a hilarious show geared a bit more toward older kids (6 and over) and created by two fantastically bright, charismatic brothers. We were invited to attend an event at Disney Channel, catch a sneak peek of the show's upcoming Holiday episode and meet the creators and executive producers, brothers Chris and Shane Houghton. We got all the good stuff about their inspiration for the show, a lesson in how they sketch out the characters and even their advice on how to break into the biz!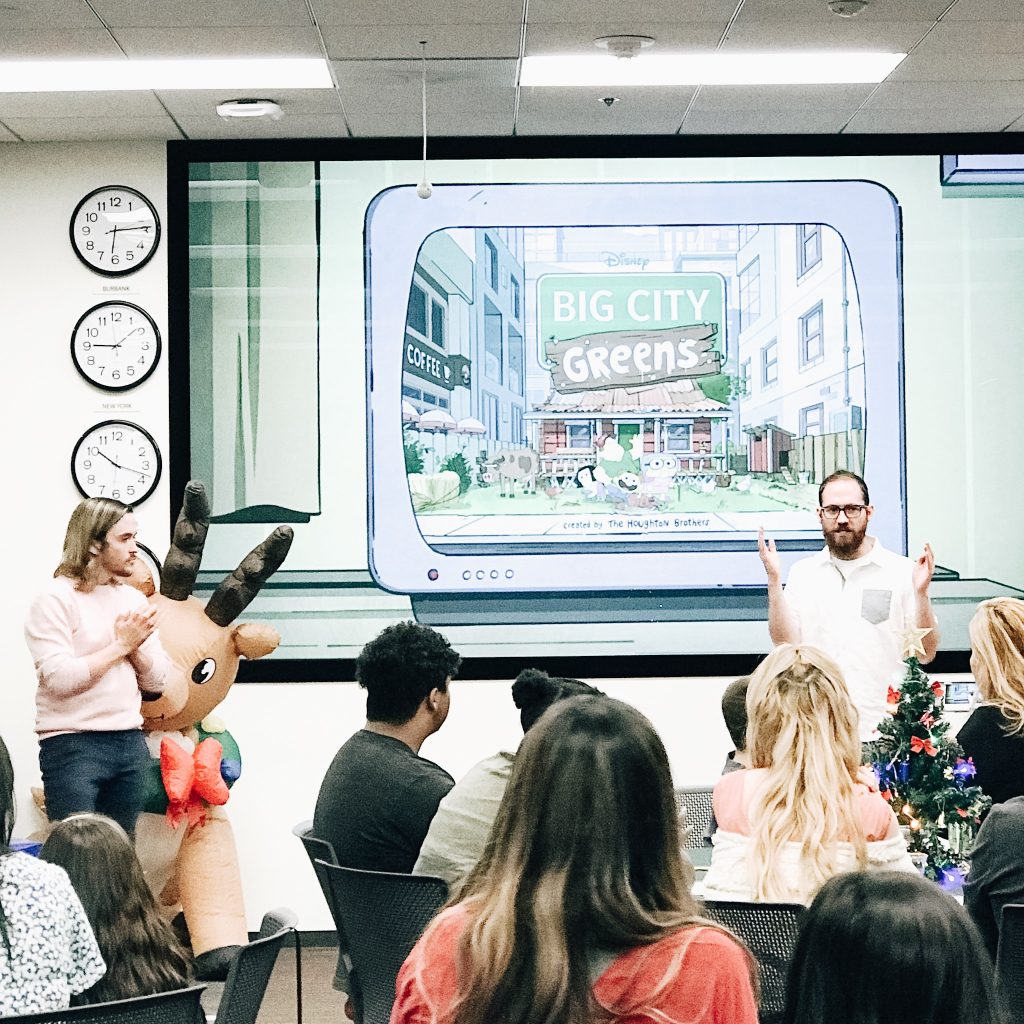 Big City Greens
The series follows the mischievous and optimistic Cricket Green as he moves from the country to the big city. Older sister Tilly, father Bill and Gramma Alice round out the cast. Cricket and his hilariously out of place family find new adventures and learn important lessons while navigating their new big city life. 
Growing up in a small, rural  town in Michigan and now living in Los Angeles…the brothers are their own inspiration…my favorite kind. Many of the locations and characters are even inspired by real-life family members and childhood townsfolk. 
Cricket Green is even voiced by Chris Houghton himself!
Drawing Characters
The boys had a great time learning how Chris and Shane sketch their characters! Gman is a big fan of comics already and you can see a drawing lesson from them too in the video below!
A number of children asked some great questions during the event. I thought these two might be interesting to kids who want to follow in the Houghton's footsteps either on the animation side, or in voiceover/voice acting.
Interested in Animation?
The Houghton brothers advice for kids on getting started in animation was to just work with a pencil (or pen) and paper! Create characters, stories and comics. No need to buy fancy animation programs right off the bat – they did say that they primarily use Storyboard Pro and Photoshop…in case you really want to get started learning some software programs.
Interested in Voice Acting?
They Houghton brothers best advice is to learn traditional acting. They suggested joining the drama club, auditioning for school plays and even making your own videos. Creating unique voices is a part of it, but voiceover is a form of acting and you need to know how to act! They also suggested playing around with impersonations…even if you're terrible at them they can lead you to creating new voices and exploring your voice.
How the Brothers Got Started
Prior to Big City Greens, Chris and Shane Houghton created their very own comic book series "Reed Gunther," and after moving to Los Angeles, their writing and comic illustration credits include the likes of The Simpsons, Adventure Time, and Peanuts, among others.
The brothers have been sketching, creating and acting all their life.  They were inspired to start drawing their own though the comics they grew up reading – they were most inspired by old school printed comics like Calvin and Hobbs, The Far Side, Fox Trot and Garfield, etc.
Watch the Show!
You can check out the Big City Greens YouTube Channel for several free episodes and catch the full seasons on Disney Channel, DisneyNOW, Disney Plus or Disney Channel VOD.
From tees to pop sockets, you can find all the Big City Greens merchandise on Amazon!
Let me know if you catch the show, I'd love to hear your thoughts!!