The most totally betty news of the year. This summer marks the 25th Anniversary of Clueless and Paramount is bringing the most iconic movie of my teen years back. On May 3-6 Clueless will be back in theaters. I need to buy tickets to see Clueless ASAP! Actually, I might have to go twice. Who's in?
Fun Fact: Clueless is loosely based on Jane Austen's book, Emma.
Say, Ambular, are you even old enough to have seen Clueless in the theaters? I graduated high school in 1995. Yep, I'm ooooold. We already loved Alicia Silverstone from the Crazy video with Liv Tyler. And then Clueless. I was in vacation with my parents and my bestie at the time, Brady, in Virginia Beach. Brady and I – being 17 and insane – met a bunch of cute boys and we all went to the mall and saw the movie together.
And four years later I moved to Los Angeles. It was then that I FULLY understood how truly amazing the quotes in Clueless are. Living in Los Angeles, there is basically a quote from Clueless for all of life's moments. I am guilty as charged with using Clueless gif's way too much LOL!.
Some highly quotable LA truths from Clueless:
Josh: You want to practice parking? 
Cher: What's the point? Everywhere you go has valet. 
Basically, yep. Everywhere in LA really does have valet!
Mel: I expect you to walk through this door in twenty minutes. 
Cher: It might take longer than that Daddy. 
Mel: Everywhere in L.A takes twenty minutes. 
So true (for us Westsiders anyway)! Without traffic, it takes 20 minutes to get everywhere (anywhere) in LA!
Cher: Lucy, you know I don't speak Mexican. 
Lucy: I NOT A MEXICAN. [she storms off]  
Cher: Great, what was that all about? 
Josh: Lucy's from El Salvador.  
Cher: So?  
Josh: So, it's an entirely different country.  
Cher: What does that matter?  
Josh: You get upset if someone thinks you live below Sunset! 
LOL! Living below Sunset in Beverly Hills or Holmby Hills means you have one of the BIIIIIG houses on a flat lot.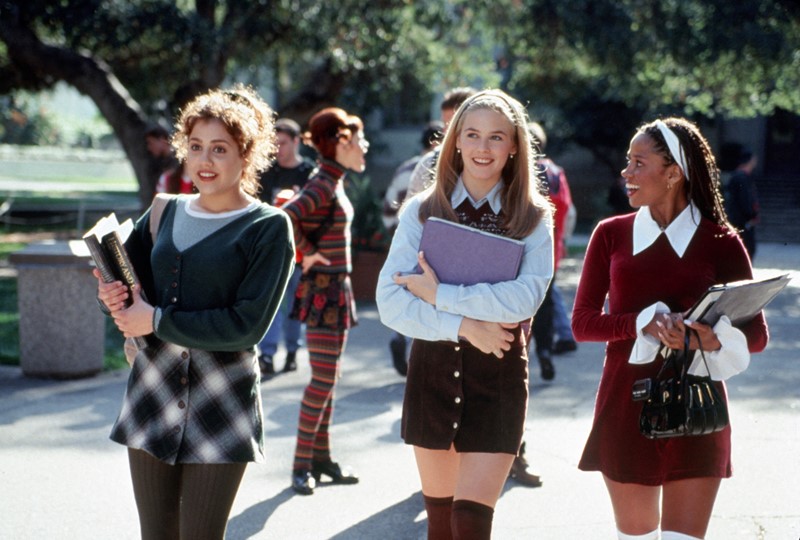 Whether you're seeing it for the first or the hundredth time, Clueless remains one of the funniest and most charming movies — while never losing its satirical bite or wonderful view of the world as it existed 25 years ago.

Fathom Events
Throughout college I watched Clueless about 300 times. VHS baby. VHS. Will that be a problem? LOL. #joking #notjoking
Clueless propelled many careers to the next level: Alicia Silverstone, Paul Rudd, Stacey Dash, Brittany Murphy, Elisa Donovan, Justin Walker, Donald Faison, Breckin Meyer, Jeremy Sisto, Wallace Shawn, and Dan Hedaya.
I suspect when word gets around it'll sell out so grab those Clueless tickets.
I know, you're thinking this is amazing, but that's not it.
Oh my god, I am totally buggin

– Cher
The As-If Clueless pop-up restaurant is slated to open in Los Angeles later this year! Current status is postponed but I can't wait! Tickets are expected to run around $35. Hoping we get more info soon!