Kirkland Signature Basil Pesto sauce just looks so fresh and healthy it sort of calls to you when you walk by doesn't it? But, what can we actually make with Costco Pesto Sauce? Pesto is an easy shortcut to make tons of appetizers and meals! Basil is a versatile herb, and while it's bursting with flavor it's also not spicy so even picky folks often like it (like your kids!)! Pesto is sort of easy to make yourself, basically it's just basil, pine nuts, olive oil and parmesan cheese blended into a sauce. Buuuuut you need fresh basil, pine nuts and to break out your food processor (and clean it after) and that's a lot of work for weeknight dinners. Pesto sauce is delicious and flavorful, but it doesn't overpower foods and thus we can use it to easily and quickly prepare a wide variety of foods.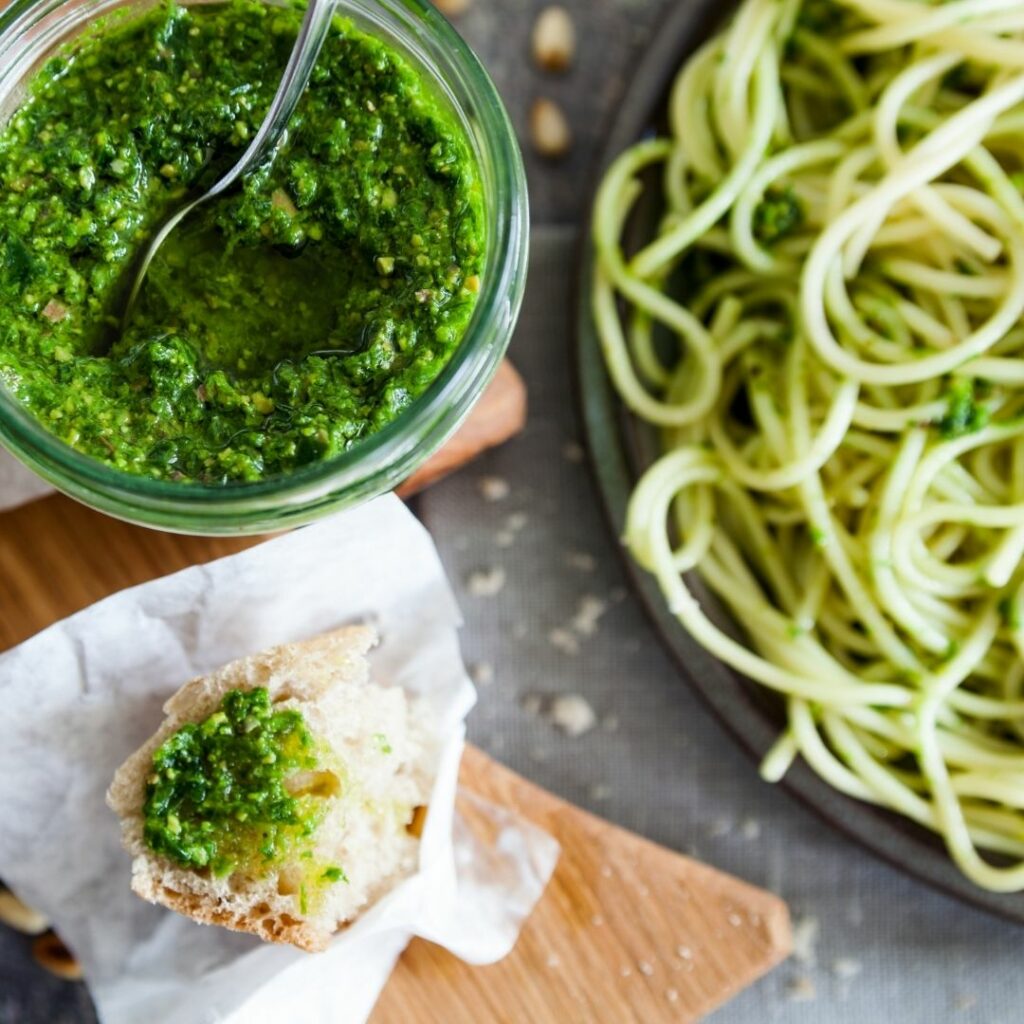 Kirkland Signature brand Basil Pesto is no exception the rule, and given it's obviously out-of-the-jar easy factor, it's a recommended buy in our book!
Now, for the fun part…how can we prepare Costco Pesto sauce? It's so good you might want to try all these great easy Kirkland Signature Pesto sauce ideas!
10 Things You Can Make Easily Using Kirkland Signature Basil Pesto Sauce
Dip crusty Italian bread or garlic bread in it
Use pesto instead of mayo, goes great with turkey and provolone panini
Add pesto to your avocado toast
Top your scrambled eggs with pesto
Top ricotta with pesto and eat on toast or pasta
Toss with angel hair and top with parmesan chicken or garlic shrimp
Use in cold pasta salad with fresh cucumber and tomato
Add pesto on top of pizza or use it instead of pizza sauce (especially delicious with fresh mozzarella!)
Toss with your favorite roasted veggies and tortellini for an easy one bowl meal
Serve on the side of salmon
Quick Weeknight Recipe Ideas Using Costco Pesto Sauce
Spread Kirkland pesto on pounded chicken breasts and top with mozzarella and Parmesan cheeses; roll up and secure with a toothpick. Dip roll in a beaten egg and bread with panko or italian breadcrumbs, sauté in some olive oil until browned, finish in the oven.
Toss Kirkland pesto sauce with pasta, ravioli or cheese tortellini and add a combination of a few of the following for a quick, easy and foodie friendly pasta meal:

goat cheese
pine nuts
roasted red peppers
diced tomato
ricotta cheese
diced chicken
blackened salmon
fresh mozzarella
shrimp
roasted broccoli
blanched spinach
blanched kale
feta cheese
fresh basil
How do you use Costco Pesto sauce? Tell us your ideas in the comments, we want to know!! And be sure to follow on Instagram and join our Facebook group for Costco Moms!