NEWSFLASH! Iconic British Hunter Boots Coming to Target Stores…How to Snag a Pair!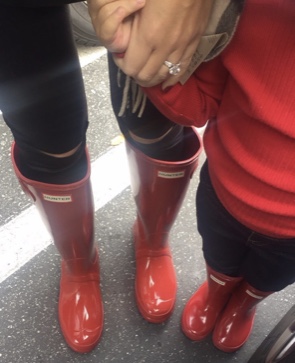 this post contains affiliate links
After seeing my very stylish friend Sepi and her daughter Valentina in these adorable red Hunter Boots, I have many a time thought how cute a little pic of my boys and I in matching Hunter boots would be…then I saw the price tag. But now, Hunter and Target are collaborating for an incredible offer…Hunter products (including the famed boots!) will be coming to Target next month. Price range will be $5-$80, with most items expected to be under $40. Amazing, right? Well. It is amazing, but…if you tried to get Lily Pulitzer last time around, then you know the big collabs are haaaaaard to snag your share. I was able to snag 4 Philip Lim bags once. AMAZING, I still get compliments on them ALL THE TIME!
The Hunter collection is slated to contain more than 300 items, which is a large collection, at a very reasonable price point. The collection does contain a tall rain boot…but I predict that is going to sell FAST. Like a flash of lightening. You'll have to plan ahead if you want in on the good stuff.
Here are my top tips:
RedCard holders will have EARLY ONLINE ACCESS to select pieces at Target.com starting April 7th.  If you don't have a Red Card, you can apply for one now. Early online access is a new of collaborative sales this time around, and many people may not know about this…so I definitely recommend this as your initial plan!
Alternatively, you can ARRIVE EARLY TO YOUR LOCAL STORE on Saturday, April 14th. But, you need to call the day before and make sure they are getting the product! Not all stores get the collaborations…so make sure before you go.  If you have a number of Target stores local to you, you might consider the following
Does one store have a demographic less likely to care about this product? (Can you drive ten minutes to a less "trendy" area and have a little less competition?)
Does one store expect more of the collection? Call all of them to inquire if they know how how many skews they will receive, or if they have a heads up on quantities…and compare who will be getting the most product. Not all stores can/will tell you, but you can certainly ask!
"For this collaboration, we wanted to pair Hunter's great heritage and iconic style with Target's "Expect More. Pay Less." design capabilities. Hunter and Target worked hand-in-hand to create a colorful assortment of all-weather wear for the entire family – one that will protect them from the elements no matter where they are or what they're doing, all for a fantastic price." Said Mark Tritton, Target's executive vice president and chief merchandising officer.
Good luck! If you score some Hunter please tell me!! Let it rain, let it rain, let it rain!
XOXO
Don't forget to get your RedCard now so your ready for April 7th!
#tweetlikethe2000s #hunterboots #hunterrainboots #HunterxTarget #hunterfortarget