We just heard about the Monster Jam Los Angeles return! Monster Jam is coming back to Southern California! Coming to Staples Center Friday, July 23 through Sunday, July 25, this beloved monster truck competition show will be the first Monster Jam event back in California following a pandemic pause. Monster Jam 2021 also marks the first public non-sports league (NBA) family event to be held at Staples Center.
Fun things to do with Kids in Los Angeles
Our family goes to every Monster Jam show that comes to Los Angeles or Orange County, the kids LOVE these shows! They are really fun, I highly recommend them! And both boys and girls love the shows and all the monster trucks – Monster Jam events are really a fun thing to with kids in Los Angeles where the whole family can hang out, no screens! Ok, you do vote on the phones…but I promise, it's really a great quality family time.
As always, the Monster Jam show at Staples Center in July 2021 will feature the ultimate mix of high-flying entertainment and four-wheel monster truck excitement. The show is full of action, tricks, flips and sometimes an unexpected crash…it's great family fun. 
Monster Jam shows may be loud for some kids and adults so you'll want to grab some noise cancelling headphones or earplugs. I usually get the little gel kids earplugs from CVS – they do the trick and it's better than buying more "things" I have to own, store, and then find again next time I need them (let's be real…I'll be running around the house saying where did I put those things??? You know what I'm talking about right?) – you can also buy noise cancelling earphones at the event or on Amazon.
Monster Jam Los Angeles 2021 Event Lineup
Monster Jam shows feature both men and women drivers, and a mix of fan favorite monster trucks and some new faces. El Toro Loco will be back for the July 2021 Staples Center Post Pandemic Debut Show!
The Los Angeles Monster Jam 2021 Staples Center show all-star truck lineup will feature multiple fan favorites as Brandon Vinson gets behind the wheel of the legendary Grave Digger® and Ryan Anderson climbs back aboard Son-uva Digger® for the first time in 2021. Reigning Monster Jam World Finals Freestyle champion Linsey Read will compete in Scooby- Doo™.  
New to the lineup is Brittany Marcotte making her 2021 debut in Zombie™ while Bernard Lyght aims to crush the competition in Alien Invasion. Rounding out the roster is local SoCal driver Armando Castro returning in El Toro Loco® while Eric Swanson vies for the championship in Obsessed. Wild Card claims the last spot in this epic eight-truck lineup.
Los Angeles 2021 Monster Jam Event Dates
Monster Jam will hold 5 event show times at the Staples Center in July 2021, dates and times as follows:
Friday, July 23, 2021
Saturday, July 24, 2021
Event Times – 1:00 PM & 7:00 PM
Sunday, July 25, 2021
Event Times – 1:00 PM & 7:00 PM
Los Angeles 2021 Monster Jam Event Location
STAPLES Center – 1111 S. Figueroa Blvd, Los Angeles, CA 90011
Los Angeles 2021 Monster Jam Event Tickets
Monster Jam Staples Center Event Tickets are affordably priced for the whole family with seats starting at just $28 each* Tickets for the July 2021 Monster Jam Event Show will be available for purchase online at AXS.com or charge by phone at 213-457-1647.                 
*ticket prices subject to change – additional venue/ticketing fees may apply
Monster Jam Fan Wellness Information
For details about Monster Jam's Ultimate Lineup for Fan Wellness, please go here.  Face coverings are currently required per government order, which is subject to change prior to the event. Full vaccination or a negative COVID-19 test is required to attend. 
As the pandemic recovery progresses, Monster Jam is monitoring changes to government mandates, public health guidelines and industry standards and is working closely with our venue partners to adjust protocols for the safety and wellness of guests based on state and local requirements.
Please continue to monitor the venue website at STAPLES Center SAFE for requirements and venue health protocols in advance of the Monster Jam 2021 Event at Staples Center.
El Toro Loco Coming Back to Monster Jam at Staples in 2021 
El Toro Loco is a Los Angeles Fan Favorite…here's a quick video to Meet El Toro Loco!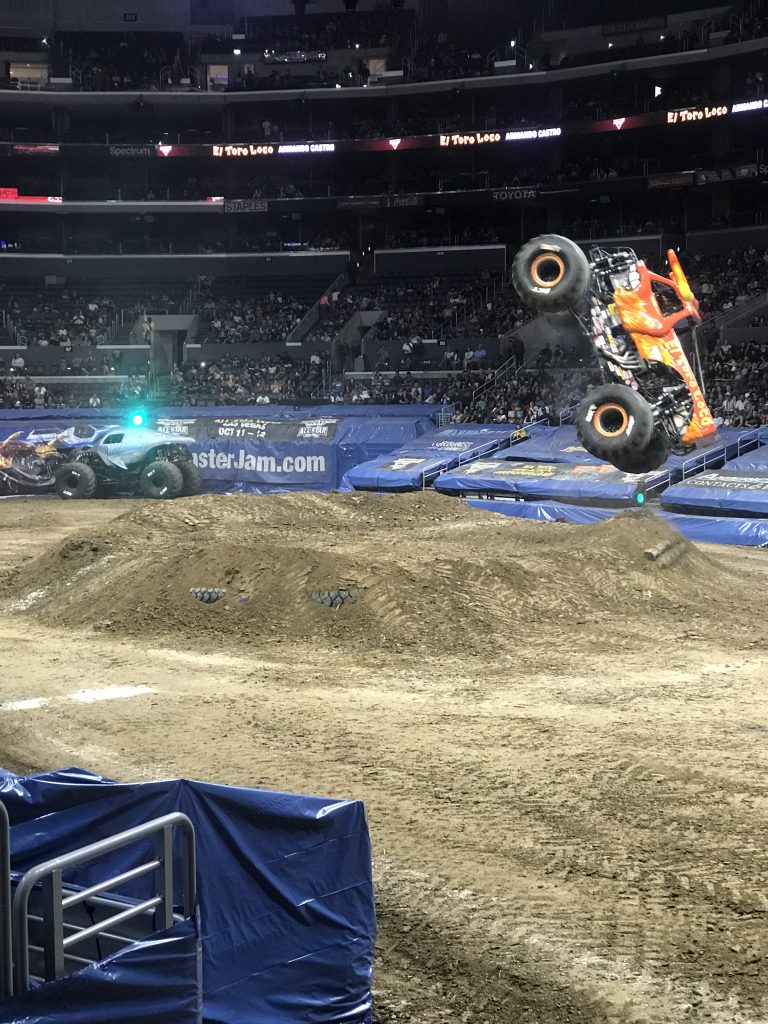 Featured Trucks/Drivers:
Grave Digger® driven by Brandon Vinson
Son-uva Digger®driven by Ryan Anderson
Zombie™ driven by Brittany Marcotte
El Toro Loco® driven by Armando Castro
Scooby Doo™driven by Linsey Read
Alien Invasion driven by Bernard Lyght
Obsessed driven by Eric Swanson
Wild Card driver TBD
Check Out A Monster Jam Show
Wondering what it's like at a Monster Jam show or want to get the kids excited about what you're going to to go see…here are some highlights from a recent show in Oklahoma City:
About Feld Entertainment, Inc.
Feld Entertainment® is the worldwide leader in producing and presenting live family entertainment experiences that bring people together and uplift the human spirit. Properties include Monster Jam®, Monster Energy Supercross, Disney On Ice, Disney Live!, Marvel Universe LIVE!, Sesame Street Live!, DreamWorks Trolls The Experience and Jurassic World Live Tour. Across the brand portfolio, Feld Entertainment has entertained millions of families in more than 75 countries and on six continents. Visit feldentertainment.com for more information.
About Monster Jam
Unexpected, unscripted and unforgettable, Monster Jam® features world-class athletes competing for championships on perfectly engineered dirt tracks that push these ever-evolving, state-of-the-art trucks to the limit. Beyond the 350 global live events each year, the Monster Jam brand extends off the track into the home through products, content and merchandise that keeps the fun alive year-round.  For more information, visit MonsterJam.com.
you might also be interested in these recent posts: