NOGGIN TO DEBUT NEW ANIMATED SERIES FROM BBC CHILDREN'S PRODUCTIONS, JOJO & GRAN GRAN, ON MONDAY, JUNE 14
The new series JoJo & Gran Gran follows almost five-year-old JoJo and her wise grandmother, Gran Gran, in a bustling London neighborhood as they spend time together.
JoJo & Gran Gran tells the story about an amazing relationship between a little girl and her loving grandmother, exploring themes that can feel quite abstract to most children such as topics of life cycles, passing of time, and growth. Through these stories the series strives to teach young children important social emotional growth concepts such as tolerance, empathy, and open mindedness, as these themes become increasingly important in today's diverse world.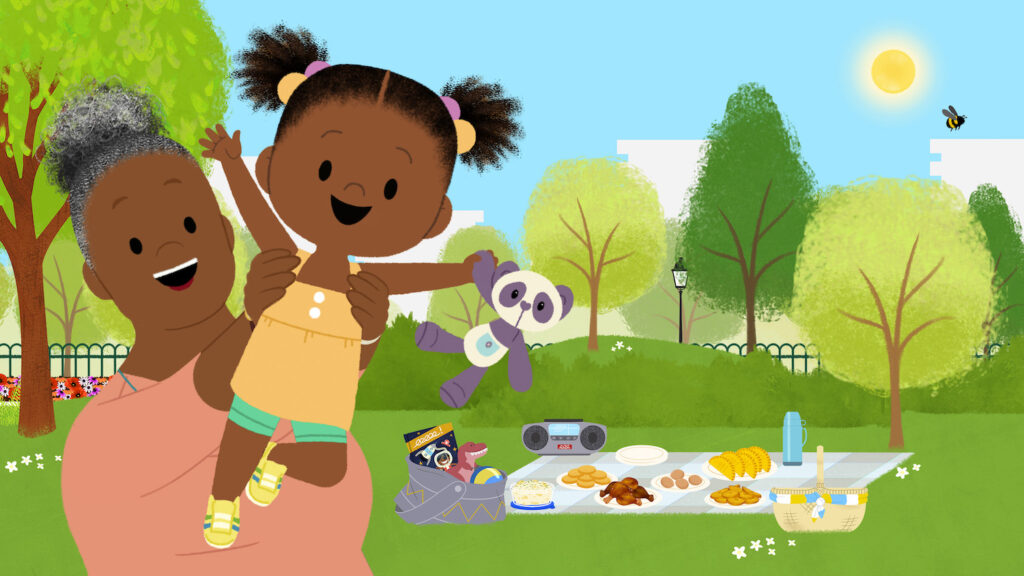 JoJo & Gran Gran aligns with Noggin's "Big Heart World" educational approach focused on building emotional knowledge and awareness for preschoolers. Each episode in the series aims to reflect kids' lives while being culturally specific and inspire real-world discovery and play. JoJo & Gran Gran is the most recent acquisition in Noggin's content slate. Other recently launched series include Rhymes Through Times, Noggin Knows, Kinderwood, School of Yum, Word Play and Imagination Trips, among others.
You can catch a sneak peek of JoJo & Gran Gran, "It's Time to Build a Sandcastle," on Friday, June 11, at 7:30 a.m. (ET/PT) during the brand-new weekly Noggin programming hour on the Nick Jr. channel, which features content available on Noggin such as Kinderwood, Noggin Knows, educational short-form videos and more. In the episode, JoJo and Gran Gran are on a trip to the sunny seaside with a mission to build the biggest sandcastle for her favorite toy, Panda, to play inside.
In Noggin, learning is led by the Nickelodeon preschool characters kids know and love, and developed by education and child development experts. Noggin offers an ever-expanding library of books, learning games, activities, exclusive shorts and 1,000+ ad-free episodes of preschool favorites like PAW Patrol, Peppa Pig and Blue's Clues & You! With Noggin, kids can go on fun learning adventures that explore science, literacy, math, music and more.
We are thrilled to welcome JoJo & Gran Gran to Noggin and to share this charming and authentic multigenerational series that complements our expanding content slate, and also aligns with our 'Big Heart World' approach to learning.

Layla Lewis, Senior Vice President, Global Acquisitions and Content Partnerships, ViacomCBS International Media Networks
The premiere marks the U.S. launch of the series which was originally developed and produced by BBC Children's Productions. Nickelodeon has acquired seasons one and two of JoJo & Gran Gran for the U.S. and episodes will continue to roll out on Noggin later this year. BBC Studios is distributing internationally.