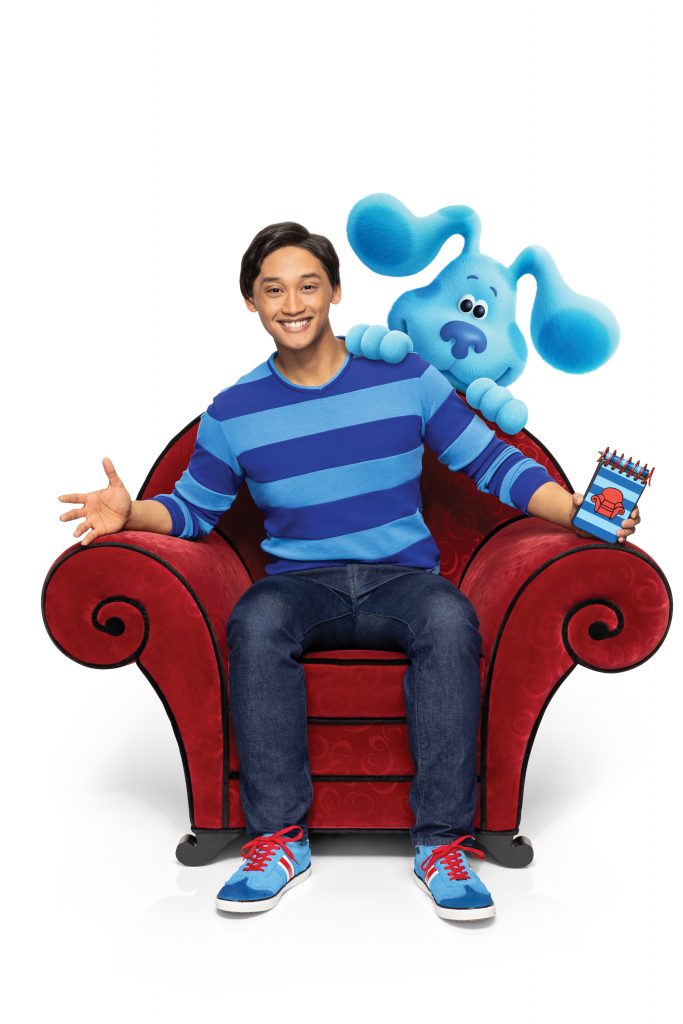 We're big Blue fans around here and we're excited that Blue and her crew return to Nickelodeon in a brand-new preschool series Blue's Clues & You! this Fall! The show will debut on Monday, Nov. 11, at 9 a.m. (ET/PT)…and you can catch the sneak peek right here on BDB, see below! Original characters Steve Burns (Steve) and Donovan Patton (Joe) will be featured in the series premiere, "Meet Josh!," and help new host Josh (Joshua Dela Cruz) and the audience solve their first game of Blue's Clues.
A remake of the curriculum-driven interactive series Blue's Clues, Blue's Clues & You! continues to follow Blue as she invites viewers to join her and host Josh on a clue-led adventure, solving a new puzzle in each episode. With each signature paw print, Blue identifies clues in her animated world that propel the story and inspire the audience to interact with the characters.
Concurrent with the launch of the new Blue's Clues & You! will be brand-new play-along videos in Noggin, Nick's top-ranked interactive learning subscription for preschoolers.  The play-along videos will allow users to explore the stories in an immersive way, and engage with live-action host Josh and the animated characters, by tapping, touching or swiping to navigate through enhanced learning experiences.
Check out the preview below!
The original Blue's Clues series launched in September 1996 to critical praise from educators, parents, and preschoolers and ran for six groundbreaking seasons.  Created by Traci Paige Johnson, Todd Kessler, and Angela C. Santomero, Blue's Clues drew acclaim and high ratings for its unique interactivity that helped change the way kids watch television and has remained one of the most popular preschool shows of all time.  The landmark series also raised the bar in preschool television by exploring advanced subject matter such as sign language, geography, physics, emotions, and anatomy.
Both of my boys LOVE the original episodes, and we can't wait to check out the new series! Let me know if you catch the series premiere!