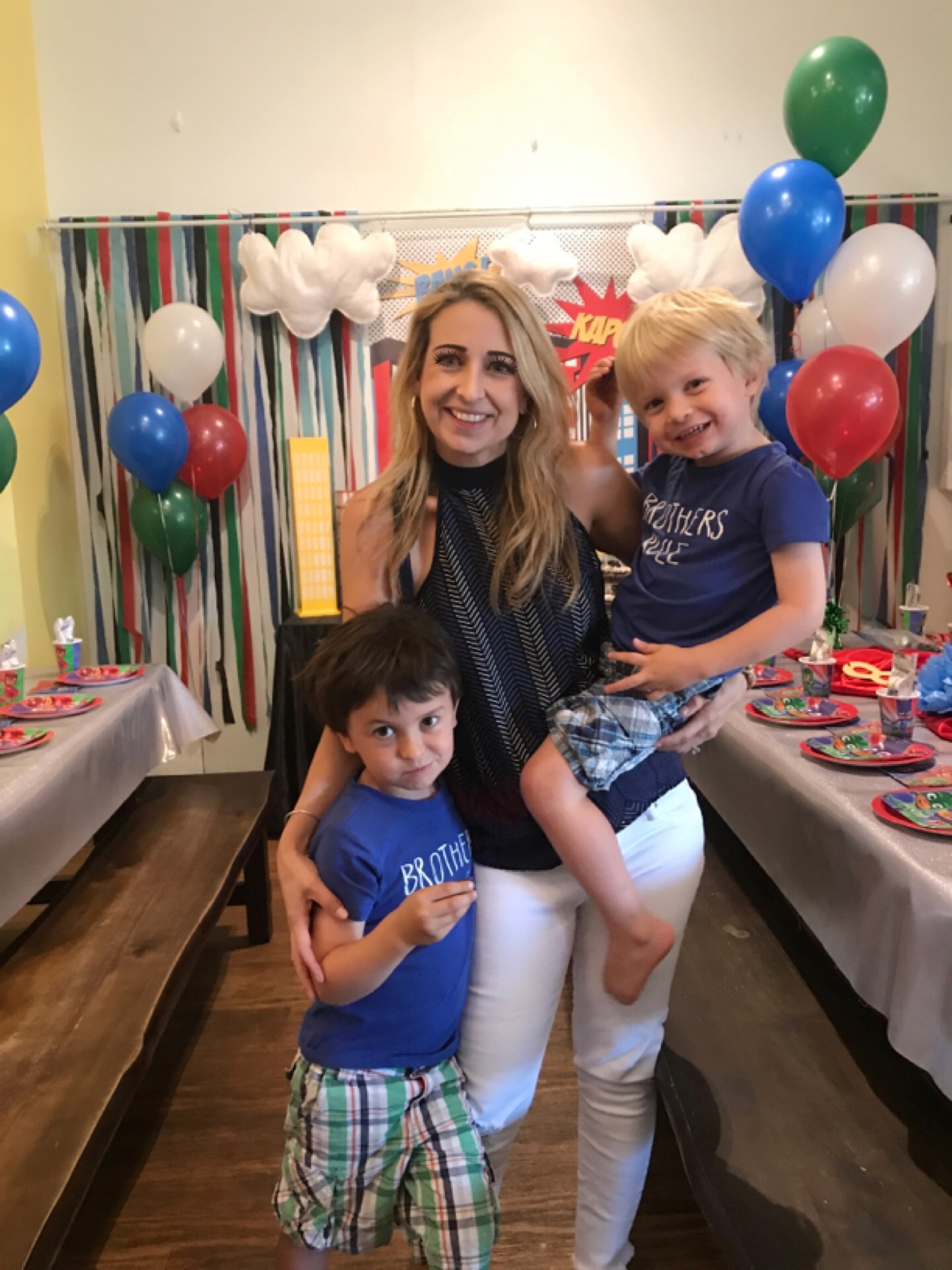 We had an amazing PJ Masks themed 5th Birthday party for Gman today at Peekaboo Playland in Bel Air.  So much fun, and such cute decorations!  Peekaboo Playland did the lions share of this party, I can't take the decorating credits, I am way too tired to do all this these days!!  But if you don't live close enough to have your party there, here are some links to help you DIY a great PJ Masks party!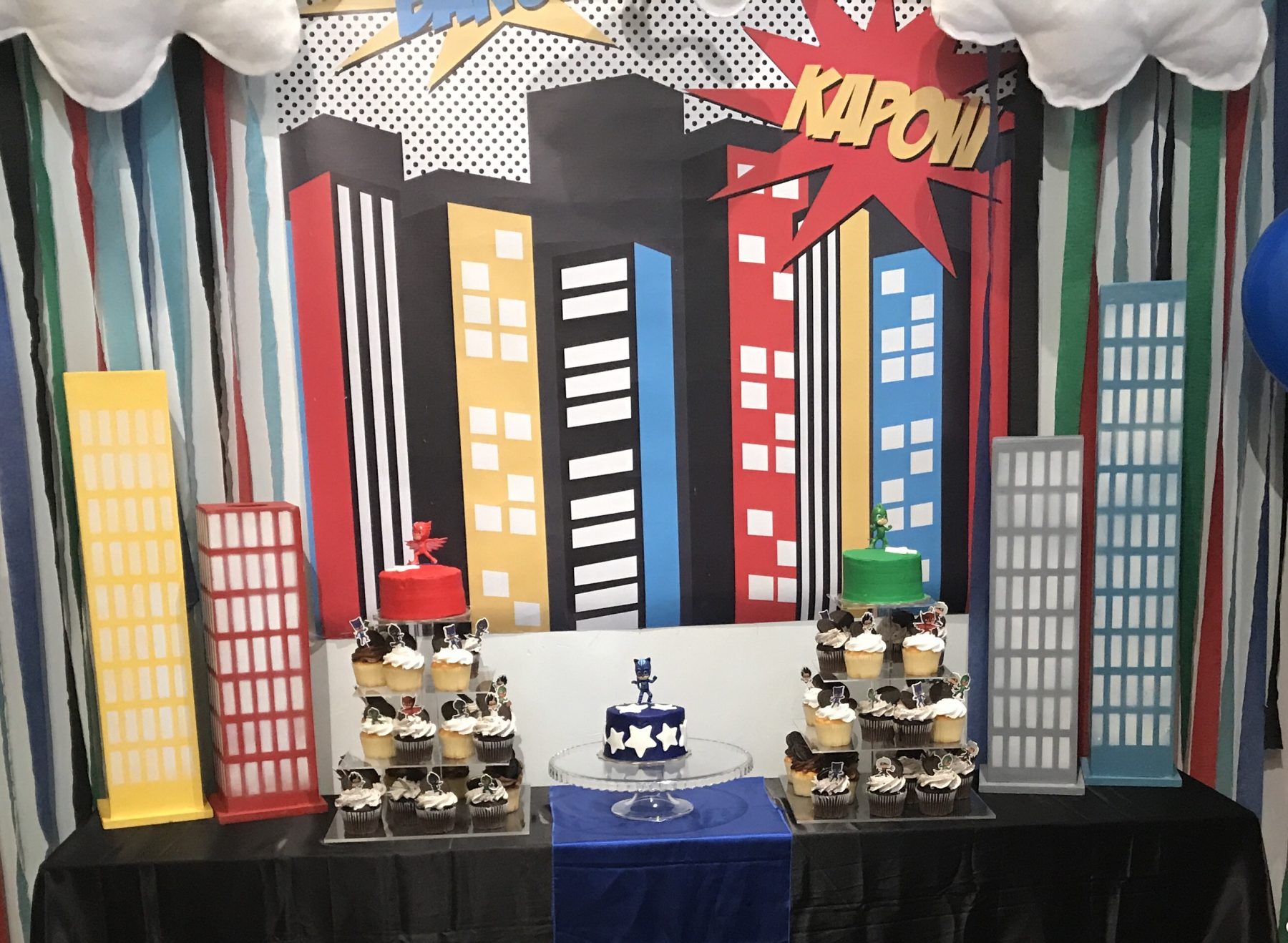 Cake
PJ Masks Cake Toppers (similar, deluxe version) – I bought 3 mini cakes from Ralphs and asked for the to be frosted in simple solid frosting, they were about $7 each! I probably could have made all 3 for under $5 total if I'd had time.
I rolled my own fondant out (buy it at Michaels with a 40% off coupon) and I punched the white stars myself.
PJ Masks Cupcake Toppers – I bought Oreo Cookie cupcakes from Ralphs (our local regular old grocery store)…I used to buy fancy $3/piece cupcakes, but after watching kids lick the frosting off and toss them for YEARS I now just get the cheap ones, plus they LOVE the added Oreo cookie on top more than anything else so it seals the deal…these were under $10/dozen.  
Cake Table
They are stacked on clear acrylic cupcake risers – link is to the exact one I have. I've had for four years and reuse EVERY year for each kid's party. They are still in great shape and they still sell them! These are super easy to use and store and have been a key permanent piece of my party hosting inventory.
There are lots of materials, shapes and sizes of cupcake risers.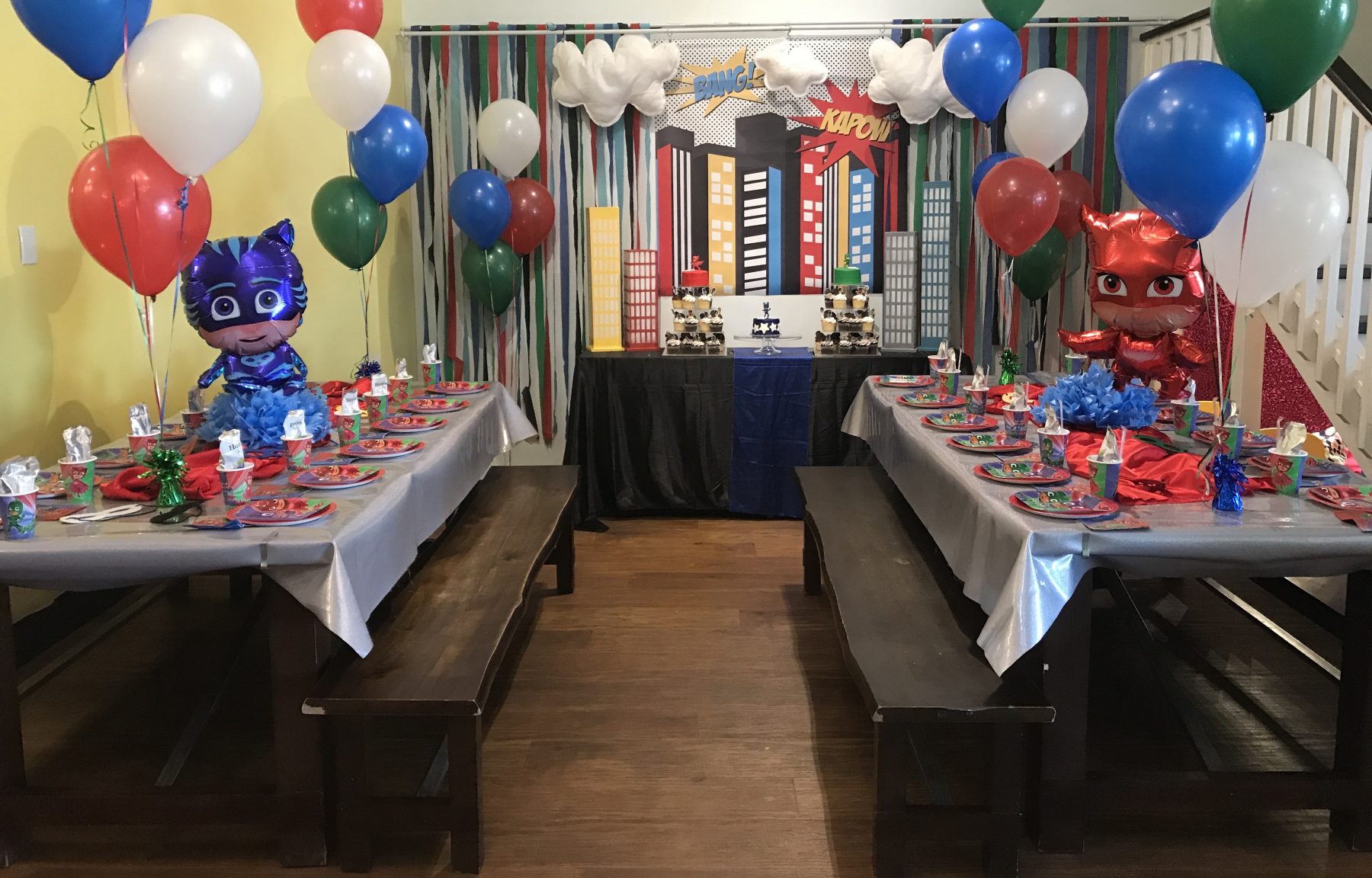 (similar, cheaper version) – the venue decorated this but this is pretty similar.
Table Decor
Plates, cups & napkins (layered on solid red dinner plates)
---
You might also like:
---
Clouds
On the backdrop they have 3-D Cloud Decorations which really gave some pop to the background!
(for play, decor or take home…like the one shown in Gekko cake pic)
PJ Masks DIY Cake
We celebrated using a cake from Bristol Farms a few nights earlier and using all three cake toppers on one cake a few nights earlier for his actual birthday, and that turned out really cute too!  
The cake was about ~$35 (6 inch cake, decorated with fondant stars and a moon/5) plus a dollar or two for the chocolate disc.  Bonus the toppers become toys after (they really are toys actually LOL).
Good luck and send me pics of your PJ Masks DIY party ideas. I'd love to add them to my blog! Please pin this post to Pinterest so you can refer to it later!!