We spent the last week vacationing with the kids at the beautiful Grand Hyatt Kauai.  The Grand Hyatt Kauai is the largest resort on the South Shore, and offers unparalleled amenities for traveling families, including the amazing (and I mean amazing) pool area. The resort is easily accessed by Lihue (lih- hu-ee) Airport, about a 35 minute drive (approximately $60 via local taxi). We were greeted with fresh leis in valet, and promptly checked-in. The front desk is fantastic, as you'd expect for a property of this caliber.

this post contains affiliate links
We were upgraded at check-in to a larger, top-floor, ocean view room. We had booked a standard ocean view room on points using the American Express Fine Hotels & Resorts program (part of the AMEX Platinum card) – which includes a free upgrade when available, $100 resort credit and breakfast for 2 daily (usually around an $85 credit). The American Express Platinum card carries a hefty fee indeed, but its benefits far outweigh the cost for our family.
Our room was large, nicely updated and had (1) King Bed (1) Queen Bed and (1) Twin fold out chair. This room would be a great option for a family with three kids without needing to book two rooms. There is a fridge in every room (empty which I much appreciate because I need snacks in-room for my early risers), bathrobes, double sinks in the marble bathroom, Nespresso coffee maker and a large balcony. The hotel has a large club lounge for members or those who wish to book club level.
The ocean view was AMAZING. Gorgeous. The pic below is the view from our balcony 🙂
The majority of the rooms at the Grand Hyatt Kauai are ocean facing (maybe all?) – so honestly I think there's a good chance no matter which room type you book you'll have some kind of ocean view. There are certainly better views than others, and rooms that are closer the lobby or closer to the water – it's a large resort and that can mean some walking to get from end to end. Our kids are older now and we enjoy the walking. I just look at it like exercise for everyone…but if proximity to the pool, restaurants, ocean and/or lobby is important, make sure you request it in advance and again upon check-in. That used to be important to me when our kiddos were younger.
The Grand Hyatt Kauai Pool
For a family traveling with children, I think the most notably unique and potentially important  aspect to The Grand Hyatt Kauai is the expansive and absolutely gorgeous pool area. The property has fabulous layers of pool options, including a 1.5 acre salt water lagoon, waterslide, traditional pools, lazy river-ish pool, and so much more. They are sparkling clean and because there are so many, it doesn't feel crowded anywhere in the pool area.
I do want to note that there is also an adult-only pool for those traveling without children or just looking for a break!
The salt water lagoon was by far our family favorite! There is chair service everywhere at the pool and a snack bar. The kids especially loved the HUGE snow cones (darn I didn't get pic!) and Mommy liked the variety of ice cream bars – all of which were a reasonable ~$4 or so – because obviously we bought them every day. Maybe twice sometimes 😉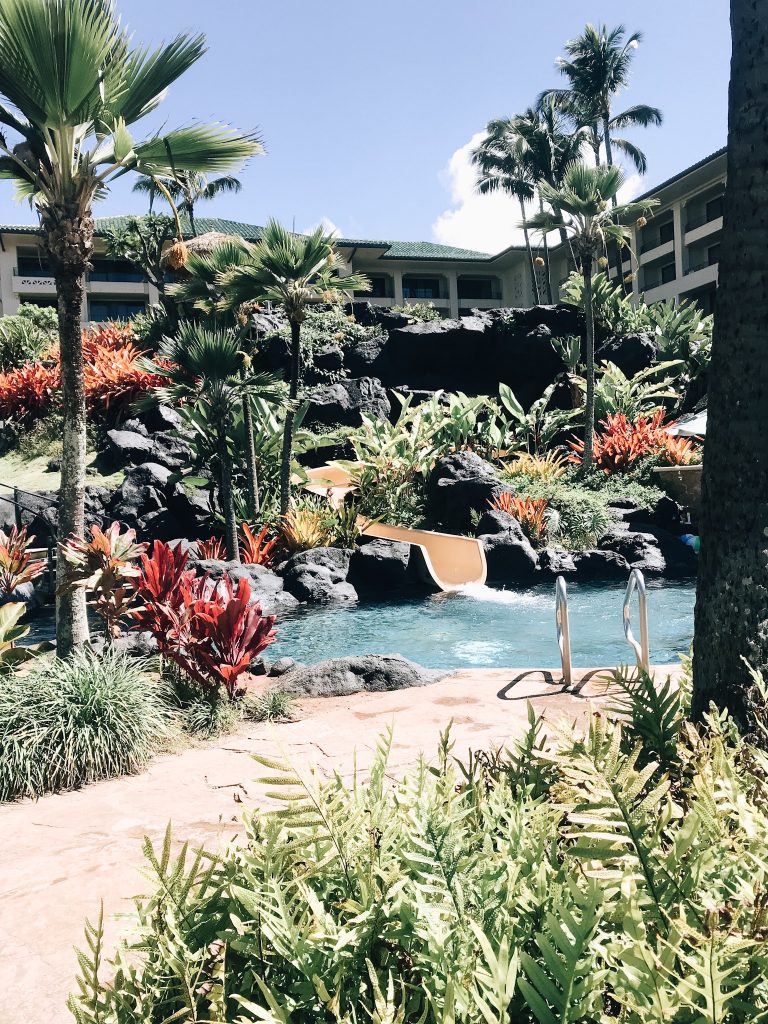 Pool Tips for Kids:
You'll want inflatable tubes or some kind of float. The hotel sells them for a very reasonable price, and inflates them for you which is super convenient. They came in about five colors but everyone has them so they do all look alike…ours kids lost them a few times so we did have to repurchase them. If traveling with several kiddos or ones who are notorious for not keeping track of their things….consider a few unique tubes (and a hand pump) and pack them along. Bringing some school name stickers for them might also do the trick!
The sun is STRONG! I highly recommend multiple discussions with kids on the requirement of a rash guard BEFORE you go. Make it known it is not optional for the pool area. We didn't do that and our 5-year refused it the first day. We learned the hard way. Do as I say, not as I do.
Both the sand and ground get hot. I suggest using water shoes. We like neoprene booties (like these) over the classic water shoes as the lagoon has a sand entry and the local beaches are rocky.
Remember to pack reef friendly sunblock, rash guards, goggles, snorkels
Know Before You Go: The "lazy river" is not a circular pool with current in which you float around and around. It is a "one-way" river which you float down, get up out of the pool, walk back, and float down again.  It is not a traditional lazy river.

Free Activities
There are loads of free activities offered by the hotel. The pool area offers free surf demos in the saltwater lagoon, waterslide races, water balloon tosses and basketball competitions (to name just a few). We also fed the Koi fish each morning, and made s'mores one evening…lots of FREE activities for kiddos.
The Lobby area is large and beautiful. There are parrots out each morning to admire. We found even more free activities offered in the lobby- from lei making to hula dancing so be sure to ask the concierge. There are multiple concierges available to book activities both inside and outside the resort, and an on-site family photographer (starts at ~$800).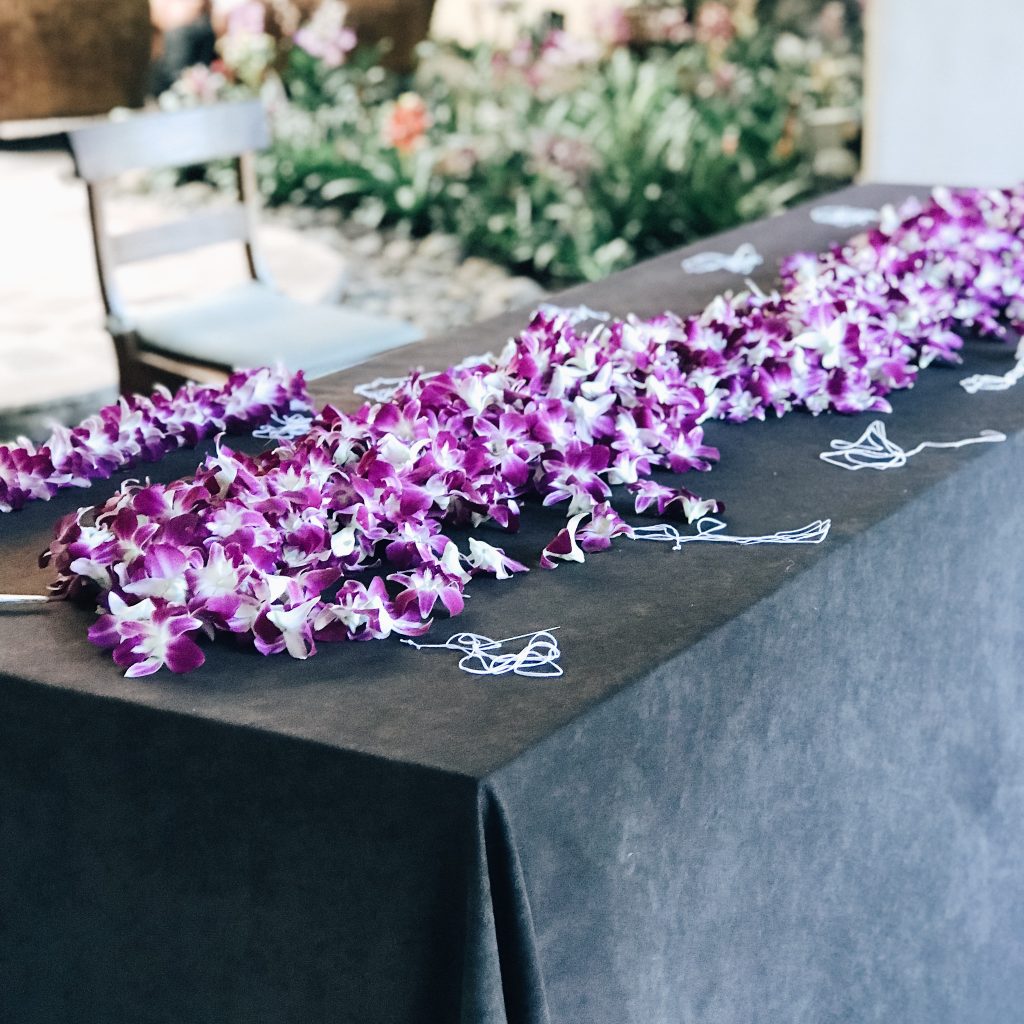 Restaurants on Property
There are 7 restaurants on the property. For breakfast there is the buffet brunch or a casual coffee shop option off the Lobby (with ocean view seating – not too shabby!). The most popular dinner restaurant on the property is Tidepools, and I highly recommend dining there at least one night. We loved that their kids meals are not the traditional  chicken fingers, hot dog, burger…but if you have picky eaters check the menu in advance. They also offer a Happy Hour from 5-6 which wasn't crowded even on a holiday week…so that's an option too (bonus 30% off!). We dined several dinners in the lobby restaurant. Food was good, view was amazing and music entertainment was fun- it's an easy kid friendly atmosphere.
Across the board we found the kids meals in the hotel were very reasonably priced. Tip: the breakfast buffet charges by the child's age, which is a great deal!! The other restaurants and pool offer kids meals around ten bucks.
Our kids were obsessed with these Lava Flow drinks! Virgin of course 🙂
The Beach at The Grand Hyatt Kauai
The beach area of the Grand Hyatt Kauai was gorgeous. The red flag was up every day we were there (early July); the waves were huge, which were beautiful to look at but not appropriate for our young children to swim in. Older children were in the water, I'd say around 8 or 10 and older…depends on the individual swim strength.
Nearby Mother's Beach
We went to Poipu Beach several times while we were there – it's just a few miles away (about a $10 uber ride) and offers a "mother's beach" of sorts because of a large rock jetty that breaks the waves.
It also offers some great entry level ocean snorkeling off a tiny "island" just offshore (can wade out to it). Photo below is Poipu Beach. The panoramic skews it a little but you can see the Jetty on the left which creates a nice calm area for kiddos. Public restroom is available…but gross as to be expected…lol.
Brennecke's Restaurant (directly across from the beach) was great for lunch, definitely recommend it. There is a rental shop next to the restaurant with boogie boards, snorkel gear, etc.
We spotted these two turtles at Poipu Beach just hanging out and taking a break:
Tips for Visiting on a Holiday Week:
We learned a hard lesson by not booking in advance on the holiday week. We did not know we needed to reserve ALL ACTIVITIES (inside and outside the hotel!) in advance and several things we wanted to book were fully reserved.
Restaurants: The popular on-property Tidepools restaurant was booked our entire stay except 1 reservation (which was our last night, Sunday night so I think everyone had left that day). You will need to call ahead and book it, at least several weeks. We LOVE Tidepools, don't miss out, book ahead! 
Pool: The pool has limited shaded seating and hotel guests head down early in the morning and place all their belongings on the shady seats to hold them. The "60 minutes max" for unattended items was not enforced (that gets tricky, I get it)…so you'll either need to head down around 5:30 am and reserve a seat, pay for a cabana (about $250) or plan to be in full sun. Alternatively if you head down late afternoon, there is more shade and folks have started to leave. I do not think this will be an issue on non-holidays though.
Off Property Activities: We could not get reservations for tubing, catamaran and several other off-property activities all of which were booked in advance. You will need to call the concierge several weeks in advance to book these activities if traveling on a holiday. The tubing looks amazing, I can't wait to go back and do it!
Waimea Canyon
We took a day to visit the very impressive Waimea Canyon State Park. Nicknamed the Grand Canyon of the Pacific, Waimea Canyon is an enormous canyon, about ten miles long and up to 3,600 feet deep. Waimea Canyon is reputed for its colorful red soil, depth, and amazing views. The views are absolutely gorgeous!
The State Park offers many hiking trails of all abilities. The visitors center has lots of info, maps and advice (and a nice collection of locally made gifts and souvenirs I might add). Outside of it are lots of picnic tables and open space, we had our picnic lunch there.
We considered the helicopter ride over Waimea Canyon but weren't sure if the kids were ready for it or not…I do think we'll do it next time.
The concierge arranged a one-day rental and car was delivered to resort. It was super easy.
Overall, we loved The Grand Hyatt Kauai for a family vacation with kids! We highly recommend it for families and will most definitely be back! They have a Luau twice a week for $180pp. We didn't participate this time but it looked like quite an event! We will definitely go next time!
Have you been to The Grand Hyatt or to Kauai? Have any other tips or suggestions? I'd love to hear them! Leave any questions in the comments and I'll get back to you!
Looking for other luxury vacations with kids? Check out the Ritz Carlton Bacara and the Viceroy Zihuatanejo!